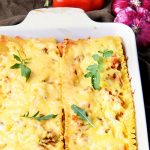 Veggie Lasagna
Perfectly delicious. Feeds 6- 8 people.

Ingredients
1

lb.

Shredded mozarella cheese

1

lb.

Cottage cheese

1

egg

1/3

cup

parmesan cheese

12

lasagna noodles

1

qt.

Spaghetti sauce
Instructions
Boil the noodles until done. Lay noodles out to cool.

Combine the cottage cheese and egg.

Spray a 13x10 casserole pan with cooking spray to prevent sticking. Cover bottom with thin layer of spaghetti sauce.

Sprinkle some parmesan cheese.

Place layer of noodles on top then cover with another layer of sauce. Sprinkle parmesan cheese.

Layer with one third of mozarella cheese and cottage cheese mixture.

Repeat two times more.

Bake at 350 degrees until internal temperature is 160 degrees (about 30 to 40 min).