Featured Recipe of the Month
Macaroni and Cheese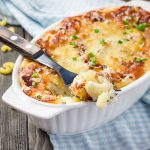 A fast and easy, kid-friendly meal that warms the tummy!
1 lb. elbow macaroni or any pasta
1 qt. low-fat milk (or full)
1-2 tbsp margarine or butter (or butter)
1 tsp. dry mustard
1 tsp pepper
1 lb. shredded cheddar cheese
1/4 cup bacon bits (optional)
2 tbsp. chives (optional)
Cook the macaroni in boiling water. Rinse well.

Add the butter, then dry mustard and pepper. Stir in the milk.

Pan up in well greased pan. Add the cheese and mix well.

Bake off in slow oven stirring occasionally until smooth.
Kids will find this dish of mac and cheese delicious. Add bacon bits and chives to elevate the flavor for both kids and adults, Serves 6 to 8 people.