JOIN THE HEAD START FAMILY!
We are committed to provide our employees a stable work environment with equal opportunity for learning and personal growth. It is the mission of human resources to support the total operation of the agency in meeting this goal through promoting the concept that our employees are our most valuable resource and will be treated as such.
Diversity is welcome here at Head Start, and I am such a supporter of celebrating people of all backgrounds. It is very reassuring to work in a place that shares the same values as someone like me.
It is a pleasure to work for an agency that fosters the good morale among staff members.
I get to be a tall four year old and play for a living.
My favorite part about HSOLC is the people I work with. They are awesome!
My favorite part about working for Head Start of Lane County is making a difference in a family's life.
My favorite part about working for Head Start is the excitement kids have when they accomplish something, or complete a task that they did not think they could do.
I feel comfortable here. Head Start is always striving on its positive mission, which makes me feel like my work has a purpose.
Live. Love. Smile. Hug. Laugh. Dream. Do. Create. Have fun. Be intense, be audacious, be unreasonable. Act impeccably. Breathe. Be you. Be different." – Brian Johnson

That's what we do! The University of Oregon team is excited for this school year because we enjoy our kids, their families and each other ! We are here to smile, laugh, have fun and make a difference! And when you have a caring, effective and creative team, it makes it that much easier to come to work every day.
I love that we make a difference in the lives of so many families in ways that we may never even know.
Head Start is a nationwide non-profit organization serving children age 0-5 and their families. Head Start of Lane County provides comprehensive services to over 1,000 families each year covering about 4,620 square miles in 20 regional locations. Our areas of service include: Eugene, Springfield, Cottage Grove, Lowell, Oakridge, Junction City & Florence.
HSOLC offers employment opportunities in several categories such as food service, transportation & teaching. We welcome the opportunity to discuss job openings and qualification requirements with you. Visit us at our Main Office: 221 B street, Springfield 97477 or contact our HR Department at 541-747-2425 EXT 1225.
APPLY NOW!!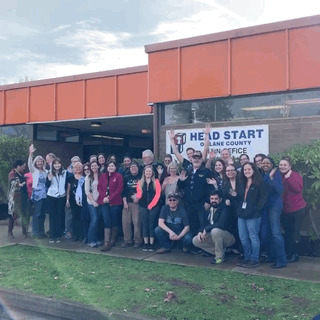 4 Simple Steps of Our Hiring Process!