Classroom Menu
Click the link to see our Cycle Menu. Monthly Menus are distributed in classrooms.

Family Activity Event Menu
The Head Start Kitchen provides nutritious snacks at family events.

Send order to Central Kitchen at least 2 weeks before event. Order should include the number of children and adults expected. No follow up paperwork required.
Refer to Cycle Menu for Week Number. Please be specific with event details.
Fruit Tray
Vegetable Tray
Sliced Cheese
Yogurt
Crackers
Ready to Eat Cereal
Beverages: Water or Lemonade
Fruit and Vegetable side selected by Central Kitchen
Condiments and sauces will be provided based on item served
Week 1:
Bean & Cheese Burrito
Chicken Veggie Noodle Soup
Cheese Pizza
Week 2:
Chicken Taco
Macaroni & Cheese
Turkey Sandwiches
Week 3:
Taco Soup
Baked Chicken
Veggie Lasagna
Week 4:
Brown Rice & Bean Bowl
Spaghetti & Meatballs
Beverages: Water or Lemonade
Family Friendly Home-Cooked Meals
Visit our recipe center! Submit your own!
Wash Your Hands!
Head Start staff and volunteers teach and model appropriate hand washing practices.
Wash you hands: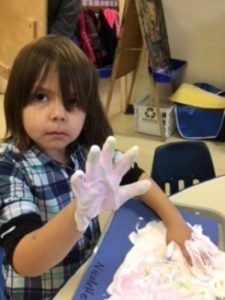 Before food preparation, handling, or serving. (including setting the table)
After toileting or changing diapers.
After assisting a child with toilet use.
Before and after eating meals or snacks.
After handling pets or other animals.
Before and after using disposable gloves.
After coughing or sneezing or blowing your nose.
After inspecting hair for lice.
Before and after giving medications.
After smoking or using tobacco products.
Hand washing procedures are posted in all classrooms, including these steps.
Wet hands with water and then add soap.
Use friction to work up lather and wash hands for at least 10-20 seconds.
Rinse well under a stream of water.
Dry hands thoroughly, with a single use paper towel.
Turn off faucet with a paper towel, if possible.
Double hand washing for Food Service Staff:
After using the restroom
After eating or drinking
After blowing nose, coughing, sneezing.
After smoking or using tobacco products.